Austin Powers International Man of Mystery: "Dr Evil and Scott in a therapy session"
INT. THERAPIST'S OFFICE - NEXT DAY

We're in the middle of a group therapy session, containing six or
seven FATHERS with their teenage SONS. It is emotionally charged. A lot of pained expressions and coffee in Styrofoam cups.

SON 1
(crying)

I love you, Dad.

DAD 1

I love you, Son.

They hug. Everyone APPLAUDS. We see Dr. Evil and Scott.

THERAPIST

That was great, Mr. Keon, Dave. Thank you. OK, group, we have two
new member. Say hello to Scott and his father, Mr....Ehville?

DR. EVIL

Evil, actually, Doctor Evil.

GROUP

Hello, Dr. Evil. Hello, Scott.

SCOTT EVIL
(into it)

Hello, everybody.

THERAPIST

So, Scott, why don't we start with you. Why are you here?

SCOTT EVIL

Well, it's kind of weird.

THERAPIST

We don't judge here.

SCOTT EVIL

OK. Well, I just really met my Dad for the first time three days
ago. He was partially frozen for thirty years. I never knew him growing
up. He comes back and now he wants me to take over the family business.

THERAPIST

And how do you feel about that?

SCOTT EVIL

I don't wanna take over the family business.

DR. EVIL

But Scott, who's going to take over the world when I die?

SCOTT EVIL

Not me.

THERAPIST

What do you want to do, Scott?

SCOTT EVIL

I don't know. I was thinking, maybe I'd be a vet or something,
cause I like animals and stuff.

DR. EVIL

An evil vet?

SCOTT EVIL

No. Maybe, like, work in a petting zoo or something.

DR. EVIL

An evil petting zoo?

SCOTT EVIL

(shouting)

You always do that!

(calm)

Anyways, this is really hard, because, you know, my Dad is really
evil.

THERAPIST

We don't label people here, Scott.

SCOTT EVIL

No, he's really evil.

THERAPIST

Scott.

DR. EVIL

No, the boy's right. I really am evil.

THERAPIST

Don't be so hard on yourself. You're here, that's what's
important. A journey of a thousand miles begins with one step.

SCOTT EVIL

I just think, like, he hates me. I really think he wants to kill
me.

THERAPIST

OK, Scott, no one really wants to "kill" anyone here. They say
it, but they don't mean it.

The group LAUGHS.

DR. EVIL

Actually, the boy's quite astute. I am trying to kill him. My
Evil Associates have cautioned against it, so here he is,
unfortunately, alive.

THERAPIST

We've heard from Scott, now let's hear from you.

DR. EVIL

The details of my life are quite inconsequential.

THERAPIST

That's not true, Doctor. Please, tell us about your childhood.

GROUP

Yes, of course. Go ahead, etc.

DR. EVIL

Very well, where should I begin? My father was a relentlessly
self-improving boulangerie owner from Belgium with low-grade
narcolepsy and a penchant for buggery. My mother was a fifteen-year-old French prostitute named Chloe with webbed feet. My father would womanize, he would drink, he would make outrageous claims, like he invented the question mark.
Sometimes he would accuse chestnuts of being lazy. A sort of general
malaise that only the genius possess and the insane lament. My childhood was
typical. Summers in Rangoon, luge lessons. In the spring we'd make meat helmets. If I was insolent, I was placed in a burlap bag and beaten with reeds. Pretty standard, really. At the age of twelve I received my first scribe. At the age of fifteen, a Zoroastrian named Vilma ritualistically shaved my testicles. There really is nothing like a shawn scrotum. At the age of eighteen, I went off to evil medical school. From there...

ANGLE ON THE THERAPIST AND THE GROUP. They are
stunned.
The Matrix Reloaded: "The Agent Smiths versus Neo"
Smith: Mister Anderson! Did you get my package?
Neo: Yeah.
Smith: Well, good.
Morpheus: Smith.
Link: Whoever it is, he's not reading like an agent.
Smith: Surprised to see me?
Neo: No.
Smith: Then you're aware of it.
Neo: Of what?
Smith: Our connection. I don't fully understand how it happened. Perhaps some part of you imprinted onto me, something overwritten or copied. That is at this point irrelevant, what matters is that whatever happened, happened for a reason.
Neo: And what reason is that?
Smith: I killed you, Mister Anderson, I watched you die... With a certain satisfaction, I might add, and then something happened. Something that I knew was impossible, but it happened anyway. You destroyed me, Mister Anderson. Afterward, I knew the rules, I understood what I was supposed to do but I didn't. I couldn't. I was compelled to stay, compelled to disobey. And now here I stand because of you, Mister Anderson, because of you I'm no longer an agent of the system, because of you I've changed - I'm unplugged - a new man, so to speak, like you, apparently free.
Neo: Congratulations.
Smith: Thank you. But as you well know, appearances can be deceiving, which brings me back to the reason why we're here. We're not here because we're free, we're here because we're not free. There's no escaping reason, no denying purpose - because as we both know, without purpose, we would not exist.
Smith 2: It is purpose that created us,
Smith 3: Purpose that connects us,
Smith 4: Purpose that pulls us,
Smith 5: That guides us,
Smith 6: That drives us,
Smith 7: It is purpose that defines,
Smith 8: Purpose that binds us.
Smith: We're here because of you, Mister Anderson, we're here to take from you what you tried to take from us. Purpose.
Trinity: What's happening to him?
Link: I don't know.
Smith: Yes, that's it, it'll be over soon.
Agent Thompson: You.
Smith: Yes me. Me, me, me!
Agent Thompson/Smith: Me too!
Smith: More.
Smiths: It is inevitable.
Trinity: Come on, get out of there.
Trinity: Are you all right?
Morpheus: It was Smith.
Neo: Yes.
Morpheus: Now there's more than one of him.
Neo: A lot more.
Link: How's that possible?
Neo: I don't know - somehow he's found a way to copy himself.
Morpheus: Is that what he was doing to you?
Neo: I don't know what he was doing, but I know what it felt like.
Trinity: What?
Neo: Felt like I was back in that hallway. Felt like dying.
The Matrix Reloaded: "The Architect"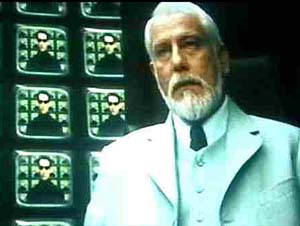 Architect: Hello, Neo.
Neo: Who are you?
Architect: I am the Architect. I created the Matrix. I've been waiting for you. You have many questions, and though the process has altered your consciousness, you remain irrevocably human. Ergo some of my answers you will understand, and some of them you will not. Concordantly, while your first question may be the most pertinent, you may or may not realize it is also the most irrelevant.
Neo: Why am I here?
Architect: Your life is the sum of a remainder of an unbalanced equation inherent to the programming of the Matrix. You are the eventuality of an anomaly, which, despite my sincerest efforts, I have been unable to eliminate from what is otherwise a harmony of mathematical precision. While it remains a burden assiduously avoided, it is not unexpected, and thus not beyond a measure of control. Which has led you, inexorably... here.
Neo: You haven't answered my question.
Architect: Quite right. Interesting. That was quicker than the others.
TV Neos: Others? How many? How many others? What others? Answer my fucking question! I don't believe anything.
Architect: The Matrix is older than you know. I prefer counting from the emergence of one integral anomaly to the emergence of the next, in which case this is the 6th version.
TV Neos: 5 `One's before me? 4 3 2 What are you talking about?
Neo: There are only two possible explanations, either no one told me, or no one knows.
Architect: Precisely. As you are undoubtedly gathering, the anomaly is systemic - creating fluctuations in even the most simplistic equations.
TV Neos: You can't control me! I'm gonna smash you to bits! I'll fuckin' kill you!
Neo: Choice. The problem is choice.
Architect: The first Matrix I designed was quite naturally perfect, it was a work of art - flawless, sublime. A triumph equalled only by its monumental failure. The inevitability of its doom is apparent to me now as a consequence of the imperfection inherent in every human being. Thus, I redesigned it based on your history to more accurately reflect the varying grotesqueries of your nature. However, I was again frustrated by failure. I have since come to understand that the answer eluded me because it required a lesser mind, or perhaps a mind less bound by the parameters of perfection. Thus the answer was stumbled upon by another - an intuitive program, initially created to investigate certain aspects of the human psyche. If I am the father of the matrix, she would undoubtedly be its mother.
Neo: The Oracle.
Architect: Please. As I was saying, she stumbled upon a solution whereby nearly 99% of all test subjects accepted the program, as long as they were given a choice, even if they were only aware of the choice at a near unconscious level. While this answer functioned, it was obviously fundamentally flawed, thus creating the otherwise contradictory systemic anomaly, that if left unchecked might threaten the system itself. Ergo those that refused the program, while a minority, if unchecked, would constitute an escalating probablility of disaster.
Neo: This is about Zion.
Architect: You are here because Zion is about to be destroyed - its every living inhabitant terminated, its entire existence eradicated.
Neo: Bullshit.
TV Neos: Bullshit!
Architect: Denial is the most predictable of all human responses, but rest assured, this will be the sixth time we have destroyed it, and we have become exceedingly efficient at it.
Architect: The function of the One is now to return to the Source, allowing a temporary dissemination of the code you carry, reinserting the prime program. After which, you will be required to select from the Matrix 23 individuals - 16 female, 7 male - to rebuild Zion. Failure to comply with this process will result in a cataclysmic system crash, killing everyone connected to the Matrix, which, coupled with the extermination of Zion, will ultimately result in the extinction of the entire human race.
Neo: You won't let it happen. You can't. You need human beings to survive.
Architect: There are levels of survival we are prepared to accept. However, the relevant issue is whether or not you are ready to accept the responsibility of the death of every human being on this world. It is interesting, reading your reactions. Your 5 predecessors were, by design, based on a similar predication - a contingent affirmation that was meant to create a profound attachment to the rest of your species, facilitating the function of the One. While the others experienced this in a very general way, your experience is far more specific - vis a vis love.
Neo: Trinity.
Architect: Apropos, she entered the Matrix to save your life, at the cost of her own.
Neo: No.
Architect: Which brings us at last to the moment of truth, wherein the fundamental flaw is ultimately expressed, and the anomaly revealed as both beginning and end. There are two doors. The door to your right leads to the Source, and the salvation of Zion. The door to your left leads back to the Matrix, to her and to the end of your species. As you adequately put, the problem is choice. But we already know what you are going to do, don't we? Already, I can see the chain reaction - the chemical precursors that signal the onset of an emotion, designed specifically to overwhelm logic and reason - an emotion that is already blinding you from the simple and obvious truth. She is going to die, and there is nothing you can do to stop it.
Architect: Hope. It is the quintessential human delusion, simultaneously the source of your greatest strength and your greatest weakness.
Neo: If I were you, I would hope that we don't meet again.
Architect: We won't.


The Cable Guy: "The Arrival" (alternate script)
INT. BATHROOM - MOMENTS LATER

Steven gets undressed. He turns on the shower, adjusts the heat, then gets in. He tries to lose his
tension by letting the hot water engulf him. He takes some shampoo, and lathers up his hair.

THE DOORBELL RINGS
STEVEN
(annoyed)
Oh great.

THE DOORBELL RINGS SEVERAL TIMES

Steven jumps out of the shower, soaking wet, throws on a bathrobe and runs to the door.

STEVEN
Don't leave! I'm here! I'm here!

12 INT. STEVEN'S LIVING ROOM - CONTINUOUS

Steven runs to the door.

CABLE GUY (OS)
Hello! Cable Guy!

Steven reaches the door, and looks through the peep-hole.

P.O.V. THROUGH THE PEEPHOLE

The CABLE GUY is walking away.

INT. STEVEN'S LIVING ROOM/HALLWAY - DAY

Steven opens the door and yells to the Cable Guy.

(Revised 11/14/95 - Pink)

STEVEN
Hey, wait!

The Cable Guy turns back.

CABLE GUY
Well, look who decided to show up. I was
just gonna go collect my retirement
pension.

The Cable Guy wears a clean white jump suit, and is extremely confident despite the fact that he
speaks with a slight lisp. This lisp gives him a child-like quality.

STEVEN
You were supposed to be here four hours
ago.

CABLE GUY
Was I? So I'm the tardy one. Good to
know.

STEVEN
Yes. I had to go to the Bed 'n Bath
place, but now it's closed.
CABLE GUY

(turns to leave)
Maybe I shouldn't have come at all jerk
off!
(turns back smiling)
I'm just joking. Let's do this.
(looks around)
Oh, the old McNair place. I never thought
they'd get the floors clean after what
happened here.

STEVEN
What happened?

CABLE GUY
(long beat)
They had a lot of cats.

They walk into Steven's living room.

CABLE GUY
Hey, this could be a cool pad. Here is a
comment card.

He pulls out a card, and hands it to Steven without turning back to look at him.

CABLE GUY
Please mail it in when I am done.

STEVEN
These go to your boss?

CABLE GUY
No, they go to me. I'm a
perfectioniss perfectioniss
(he strains to lose his lisp)
perfectionisst.
Now let's take a look at what we're
dealing with.

The Cable Guy walks around the room with his hands out, sensing the space.

CABLE GUY
Come on baby. Come on baby. Talk to me
baby. Tell me where you like it. That's
it baby.

He zones in on one wall. He fells the wall in a sensuous manner.

CABLE GUY
Here's your sweet spot.

He pulls out his drill, and begins drilling.

CABLE GUY
So your lady kicked you out.

STEVEN
What?

CABLE GUY
In preparing your service I noticed you
were previously wired across town at 1268
and a half Chestnut. Last week the
billing was transferred to one Robin
Harris. Smells like heartbreak to me.

STEVEN
I really don't want to talk about it with
you. Could you please just install my
cable? I'm going to get dressed.

CABLE GUY
No sweat.

Steven walks away, into the hallway. A moment later the Cable Guy runs to him.

CABLE GUY
Hey, I'm going to go to the hallway so I
can access the floorboards. Don't be
spooked if you hear someone crawling
underneath you.

STEVEN
Okay, whatever.

Steven walks toward his bedroom.

CABLE GUY
Put on your bathing suit 'cause you'll be
channel surfing in no time.
Friends: "The One with the Bullies"
Chandler and Ross are told by 2 bullies to stay away from the Coffee House but they go anyway...
[They leave. As they're walking out, the bullies are walking in.]

CHANDLER: Bullies, big bullies.

LITTLE BULLY: Oh, look who's here, it's the weenies.

BIG BULLY: Did we not make ourselves clear the other day.

ROSS: Yes, and that's why we're here.

CHANDLER: Yes, we're standing out ground...apparently.

LITTLE BULLY: Let's do this alright.

ROSS: Woah, ho-ho, whad'ya got there, a weapon?

LITTLE BULLY: It's a nice watch, I don't wanna break it on your ribs.

CHANDLER: Alright, let's do this.

LITTLE BULLY: Alright.

[they all put up their fists and prepare to fight]

CHANDLER: Question. If I don't care about my watch, can I use it as a weapon?

ROSS: Whad'ya mean?

CHANDLER: Well, it's sharp, it's metal, I think I can do some, you know, serious damage with it.

BIG BULLY: No, you can't use your watch.

CHANDLER: Ok. [reaches in his pocket]

BIG BULLY: Or your keys.

CHANDLER: Ok.

LITTLE BULLY: Look, here's what we'll do. We'll put all keys and watches in the hat over there. Alright. [they all put their keys and watches in the hat and put it on a mail box] Alright, c'mon man, let's do this.

[they all jump in the street and prepare to fight]

ROSS: Before I forget, are we hitting faces?

BIG BULLY: Of course we're hitting faces, why wouldn't you hit faces?

ROSS: Well because I have to work on Monday, I have a big presentation.

LITTLE BULLY: Actually, you know, uh, I gotta show this apartment tomorrow and uh, you know, this no faces thing might not be a bad idea.

BIG BULLY: Ok, nothing from the neck up. [everyone gets ready for the fight] Or the waist down. Dana's ovulating.

LITTLE BULLY: Oh really, you guys tryin' again?

BIG BULLY: Yeah.

CHANDLER: Ok, so let me just get this straight. So we're uh, strictly talking about the middle?

BIG BULLY: C'MON!

ROSS: Hey, hey, woah, you want some of this, huh? You want a piece of this, huh? I'm standin here, huh.

CHANDLER: Hey, hey, those guys are takin our stuff! [some guy runs off with the hat]

ROSS: Hey.

BIG BULLY: Hey.

[they all run off after the guy]
The Shining: "Heeeeeeere's Johnny!"
INT. BEDROOM - M.C.S.

JACK at Bathroom door.

JACK
Little pigs, little pigs, let me
come in!

CUT TO:

INT. BATHROOM - M.S.

WENDY by open window. She moves L-R to basin. CAMERA PANS
with her. She picks up knife and moves R-L to side of door.

132.


CAMERA PANS with her.

CUT TO:

INT. BEDROOM - M.C.S.

JACK at Bathroom door.

JACK
Not by the hair on your chiny,
chin, chin. Then I'll huff, and
I'll puff

CUT TO:

M.S. JACK holding axe back to camera at Bathroom door.

JACK (CONT'D)
and I'll blow your house in.

He swings axe back.

CUT TO:

M.S. JACK swings axe twice at Bathroom door. WENDY SCREAMS
OFF.

CUT TO:

INT. BATHROOM - M.S.

WENDY standing at side of door. JACK's axe appear through
door. WENDY SCREAMS. JACK's axe repeatedly appears and
splinters door. WENDY screams.

WENDY
Jack. Please. Don't... Don't...

Head of axe appears through splintered door. WENDY SCREAMS.

WENDY
Don't! Oh! Please

Head of axe appears again through door. WENDY SCREAMS.

WENDY
Stop!

CUT TO:

M.C.S. Splintered door panel.

WENDY (OFF)
Jack!

133.


JACK in b.g. swings axe at door and smashes away the
splintered wood.

WENDY (OFF)
Stop it! Stop it!

CUT TO:

INT. BEDROOM - M.S.

JACK swings axe at splintered door.

WENDY (OFF)
Stop it!

JACK moves L-R to gap in splintered door. WENDY SCREAMS OFF.

CUT TO:

INT. BATHROOM - M.C.S.

JACK's face at gap in splintered door.

JACK
Heeeeeeere's Johnny!