At the end of every month, Cablo Gula will choose a film that he sees as unmissable. There will be a review of the film as well as Cablo Gula's verdict.

Cablo Gula can, however, be totally wrong! Yes, it happens. So if you disagree or want to give your opinion, don't hesitate to contact him on the "contact me" page.
SEPTEMBER 2005
Howl's Moving Castle (2005)
With the voices of: Christian Bale, Billy Crystal, Lauren Bacall
AUGUST 2005
Crash (2005)
With: Don Cheadle, Sandra Bullock, Matt Dillon, Brendan Fraser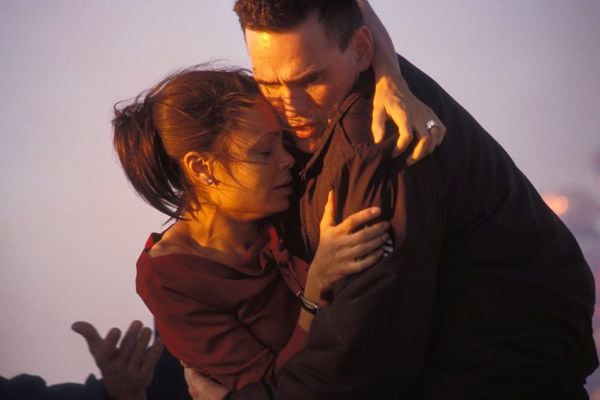 JULY 2005
Charlie and the Chocolate Factory (2005)
With: Johnny Depp, Freddie Highmore, Helena Bonham Carter, Christopher Lee
June 2005
Sin City (2005)
With: Bruce Willis, Mickey Rourke, Clive Owen, Jessica Alba, Benicio Del Toro, Elijah Wood, Rutger Hauer, Michael Madsen
May 2005
Star Wars: Episode III-The Revenge of the Sith (2005)
With: Hayden Christensen, Natalie Portman, Ewan McGregor, Ian McDiarmid
April 2005
The Hitch-Hiker's Guide To The Galaxy (2005)
With: Martin Freeman, Sam Rockwell, Mos Def, Bill Nighy, John Malkovitch, Zooey Deschanel
March 2005
Melinda and Melinda (2005)
With: Radha Mitchell, Will Ferrell, Amanda Peet
February 2005
A Very Long Engagement (2004)
With: Audrey Tautou
January 2005
Ray (2005)
With: Jamie Foxx
STORY:
This Oscar-winning biopic traces the life of troubled musical genius Ray Charles. We follow him from when he first went to play piano in a club until he got off heroin and received a public apology from the government. We also see moments from his childhood in flashbacks: the death of his young brother, how he lost his sights etc...
ACTING:
+ Jamie Foxx: Foxx received a Best Actor Oscar for his often uncanny performance as the late Ray Charles, and deservedly so. His portrayal is not a mere imitation and Foxx goes deeper than that to create a not always positive representation of a man with a troubled past. It's pretty clear that Charles was Foxx's hero and his portrayal is a faithful one.
Overall: ****1/2 /5
DIRECTING/WRITING:
+ Director: This film took years and years of research and the whole thing took like 15 years to make. But it was worth it. The film looks particularly great (the opening sequence is really cool) and the direction is smooth. As for the script, even though it does have its conventional moments, it's surprisingly clever and not over-admiring, which is rare with biopics.
FILM:
Jamie Foxx is excellent, the supporting cast does a terrific job and the film is visually impressive thanks to some slick directing and sharp writing. The songs are obviously terrific and make this long film entertaining from start to finish. I wasn't bored one second. The very last scenes do feel a bit tacked-on but overall it's a fine achievement and one of the best biopics ever.
Overall: *****/5
December 2004
Lemony Snicket's A Series Of Unfortunate Events (2004)
With: Jim Carrey, Meryl Streep, Jude Law, Timothy Spall, Billy Connolly, Liam Aiken and Emily Browning
STORY:
Based on the first 3 volumes of Lemony Snicket's dark children's books. A Series Of Unfortunate Events has been compared with Harry Potter but for me Lemony Snicket's dark and unfortunate world is much more engaging than J.K. Rowling's "magical" world and Lemony Snicket's messages are thoughtful and deal with real life.
The film's opening sequence is inspired and sets the mood for the film: it refuses to be a happy little story with a happy little ending. Instead, this is the dark, gothic and gruesomely funny story of the 3 Baudelaire orphans (Violet, Klaus and Sunny) who lost their parents in a suspicious fire that also burnt down their home to a crisp. They are sent to live with their distant Count Olaf: a talentless actor who lives in a gloomy and spooky house. From the moment the 3 children meet the Count it is very clear what he's after: the fortune they've inherited from their parents. The films sees the 3 poor children being sent to live with other relatives after Olaf's 1st plan fails: the friendly herpetologist Uncle Monty and the frightened Aunt Josephine. But they have not seen the last of Olaf who will do anything to get his hands on the fortune, including wearing countless disguises and even committing murder.
ACTING:
After his great against-type performance in Eternal Sunshine, Jim Carrey is back to his old rubber-face tricks to end the year with a bang. But even though Jim Carrey's Count Olaf is a much more likeable character than Lemony Snicket's creation, he still manages to be very creepy and pure evil whilst being hilarious all the way through. Jim Carrey assumes 3 different disguises during the film: Olaf, Stefano (Uncle Monty's assistant) and an old sailor who manages to "charm" Aunt Josephine.
+ Meryl Streep's Aunt Josephine is a hilarious creation. She is scared of just about everything there is, even advocados! Streep seems like she's just having fun with her character and the result is excellent.
+The kids all do a surprisingly good job, especially Emily Browning and Kara Hoffman (Sunny) who are exactly like in the book. Liam Aiken, however, doesn't look anything like Klaus and doesn't smile once during the whole film. What a nerd.
DIRECTING:
Brad Silberling's direction is impressive, stylish and Tim Burton-esque. Think Addams Family, Edward Scissorhands and Harry Potter. The sets are huge and give the film a surreal quality, as for the costumes: they're all spot-on.
VERDICT:
Overall: ****/5
One of the most entertaining and stylish films of 2004 and a must-see for all with a dark side.
April 2004
Eternal Sunshine of the Spotless Mind (2004)
Cast: Jim Carrey, Kate winslet, Kirsten Dunst, Elijah Wood, Tom Wilkinson, Mark Ruffalo
Director: Michael Gondry Screenwriter: Charlie Kaufman
STORY: Shy and "closed-mouthed" Joel Barish (Carrey) meets free spirited and impulsive Clementine(Winslet), they start a rocky relationship and one day, to Joel's surprise, she doesn't seem to recognize him. He then finds out that she has visited Lacuna Inc. and had all memories of him wiped away. Angry, Joel decides to do the same but in the middle of the process he starts having second thoughts...

ACTING:
+As Joel Barish, Jim Carrey, just like in the Truman Show, shows that he isn't just a comedy god but also a terrific actor (come on you guys at the Academy Awards, wake up!!!). Here, he tones down his crazy dramatic persona and gives his rubber-face we all know and love a bit of a rest. Unusually, he is shy, grumpy and only occasionnaly funny but intermittently wonderful in this film.

+ Kate Winslet: After a series of turkeys, she is back on top form in Eternal Sunshine and gives arguably her best performance to date, as Carrey's girlfriend Clementine.
+ Kirsten Dunst / Elijah Wood: Two of the best young actors around (mostly known as Mary-Jane in Spiderman and Frodo in the Lord of the Rings trilogy) they provide some excellent support for the 2 main stars, especially Dunst who gives her character some depth and a 3 dimensionnal persona.

Directing/ Writing:
+Written by Charlie Kaufman (centre), the genius behind the brilliantly weird Being John Malkovitch and Adaptation. This is by far his best work and his first screenplay with a premeditated and well organised ending.

+Directed by Michel Gondry (right). The way he goes from one scene to an other by using different techniques is pure genius and it is what makes the film so visually stunning and impressive. He manages to create a sort of weird surrealism that goes perfectly well with Kaufman's screenplay. A surprisingly excellent director.

STORY:

The story takes place most of the film in Joel's mind (and in his subconscious) which means that during the film we get to witness the intentionnaly messy memories of the main character. The story reeks of Philip K Dick's Ubik and I guess that's why it is so strange, engaging and sweet. Excellent Smithers!

Verdict:

This is a film that is a strong contender for film of the year and, frankly, should be seen by everyone!! It is beautifully done, purposefully confusing, weird and wonderful!

Overall: *****/5

If you liked this check out: Adaptation, 21 Grams, Being John Malkovitch, Vanilla Sky.