Lemony Snicket's A Series Of Unfortunate Events (2004)
"A Fortunate Event!"
After the Eternal Sunshine Premiere got cancelled months ago, I was disappointed but, with the release of A Series of Unfortunate Events, I was offered a second chance to see Jim "Rubber face" Carrey in person.
It's about 5 o'clock, I'm freezing my Ace off, everyone is, and the red carpet hasn't even been set yet. Some women are talking my ear off in front of me: Shut the hell up you pathetic old windbags! You don't know squat about Jim or his films! But even though my legs have turned to jelly, my stomac is emptier than a Scottish paying toilet and I'm colder than an Eskimo eating ice cream naked at the top of an igloo in the South Pole (weird image huh?), I am still very excited about the whole fortunate event (lol to self!) taking place. Some people come out of the cinema with a Christmas tree, but instead of Christmas decorations it has lemons on it (geddit? Lemon-y Snicket?). Finally, the carpet is set, surprisingly quickly actually! But it's no ordinary red carpet: this is a lemony yellow carpet with a blue eye printed on it.
People are getting impatient. It's 6 and no one is here, just a bunch of unknowns passing by. That is until Timothy Spall and Liam Aiken appear.
They go almost directly to the press but Cablo Gula did manage to get Spall's autograph (he plays Mr Poe in the film). He's actually a very nice guy.
Later, famous people start to flow including the director of the film Brad Silberling, Elvis Costello and, more surprisingly, Stephen Hawking! Then, Jim Carrey shows up and the crowds go crazy, so does he as a matter of fact! He picks up 2 cardboard eyes from the crowd and starts to walk around holding them on his face. Lol Jim! Then, he signs some autographs whilst making hilarious remarks such as: "Do not go and see this film!". But when he gets to where Cablo Gula, one of his biggest fans, he goes to talk to the press…CRAP MAN! A bit later, he signs more autographs as a woman even tells him she wants his babies, he takes a picture with Hawking and he goes in the cinema after jumping on some photographers and having taken a picture with a random kid. Meryl Streep, by that time was talking to the press.
Suddenly, Jim comes running out and steals her from the press to bring her inside the cinema. Probably because they came late. Overall, even though I was disappointed not to get an autograph I did see Jim and it was a cool experience. At least I have another reason to go see Jim at his next Premiere!
Overall: ****/5
Around the World in 80 Days (2004) European Premiere
"Everything's Chan-tastic!"
Leicester Square, Vue Cinema, 6 pm. Everyone is getting impatient to see the stars of new film fantasy remake: Around the World in 80 days. The red carpet is set and everything is ready to go. A lot of Chinese people have showed up, obviously, to see Chan The Man, Jackie Chan. I'm sure most of them don't even know or care about who the hell is Steve Coogan!!
It's now 6.30 and noone has showed up...yet. It is starting to rain a little as a car pulls up next to the red carpet. Suddenly, a man gets out of it, he's small, dressed all in white and looking terrific for his age: It's Jackie Chan!!!! Only his presence is needed to make everyone smile instantly! He looks genuinely happy to see his fans, which is good. He doesn't sign autographs but gives high-fives to everyone in the crowd, which is cool. (even Cablo Gula!).
He waves, still smiling, as Steve Coogan appears. It's his first Hollywood outing so obviously, he doesn't get a big reception like Jackie but still, it's not bad...Alan Partridge is happy. He signs autographs agogo, even for Cablo Gula!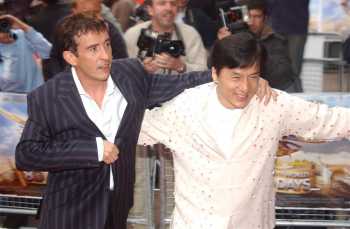 Earlier, british actor Jim Broadbent had passed by but signed like 1 autograph! Oh well.
After that, like last time, a whole range of semi-celebrities appear: A guy from Blue, two hot twins that are, apparently, in a girl band, Stephen Fry (fat and ugly British actor critic with a big head).
Overall, it all happened much too fast but thanks to Jackie, a few moments were Chan-tastic indeed!
Overall: ***/5
The Day After Tomorrow (2004)
"Snow far so good !"
It's a beautiful day in Leicester square, the people are smiling, pigeons are flying, a guy dressed up as Superman is protesting at the top of the Odeon cinema: business as usual!
In front of the Vue cinema people are standing, waiting for the european Premiere of disaster movie: The Day After Tomorrow to begin. Cablo Gula is, of course, on the scene and in the front row.
It is now 5.30pm and the people are getting impatient as the red carpet is being set. Only this time, things are different, better.
The red carpet is replaced by a white carpet to make a kind of "snow" effect. Talking of snow, a few guys at the top of the cinema turn on the snow machine and some fake snow descends upon the watching spectators.
It is now 6 o'clock, the music from the film is turned on and adds to the excitement. An indian guy called Ali, wearing headphones, is standing next to me, he starts to talk to me. He's a very nice guy but I think that BORING is his middle name!
Anyway, it's 6.30pm: the carpet is set, the press is ready, time to rock and roll! Some unknown people appear: who cares?
Ah! There's Jake Gyllenhaal, star of the small cult masterpiece Donnie Darko, the great The Good Girl and the moving Moonlight Mile. He is wearing a brown suit and looks cool as a cucumber.
Kirsten Dunst (Eternal sunshine of the Spotless Mind, Spiderman) is walking beside him. They pose for the press and the beautiful Kirsten goes straight into the cinema, which is a disappointment.
Jake jokes around then goes to talk to the press.
American actress Emmy Rossum appears in a bright purple dress. She goes straight to the press.
After about 5-10 minutes Jake goes to answer to his fans' demands: autographs, photos...
Cablo Gula obtains a really cool autograph (thanks Jake!). Then, after about 10 minutes, he goes into the cinema.
Then, director of the film and of Independance Day: Roland Emmerich appears and Cablo gets an autograph. Cool.
At this point, Emmy Rossum has left, no signings, nada: Oh Well...
Then, a whole bunch of celebrities show up:
Mel C (Sporty Spice) from the Spice Girls, Audley Harisson, the British boxer and boy band D-Side or something of the sort...
After that, it is quite clear that it is all over but it was a very good experience and, as for the fake snow, the white carpet and the music, they were all nice touches and managed to create a pretty COOL atmosphere (cool, snow, geddit?)
It's so far so good for rising Hollywood and Indie film star Jake Gyllenhaal.
Overall: ****/5