Pee-Wee's Big Adventure (1985)
With: Paul Reubens
This was Tim Burton's first feature film. Now a cult comedy, Pee Wee was a great debut and even though it may sound like a goody-two-shoes kids film it really isn't, and if you think that then you obviously don't know Tim Burton. The film is hilarious thanks to Paul Reubens' (Pee Wee) campy creation, Tim Burton's ironic humour and the great script. The story goes as follows: weird man-child Pee Wee Herman lives on his own, in suburbia, in his own little world with his little routine and is very happy that way. One day, his beloved bicycle gets stolen leaving poor old Pee Wee having to get rides across America in search of it. Along the way, he meets some delightfully insane characters including a silly escaped convict, a deceased truck driver named Large Marge, a bunch of murderous bikers, an old annoying singing bum, a nice waitress with a brute husband to name a few…Pee Wee's world is a colourful one with a dark edge. It was my favourite film as a kid and it's still today one of my favourite comedies. Overall, it's a fun-packed, hilarious, stylish, clever cult classic with a terrific score from Danny Elfman.
Overall: *****/5
Edward Scissorhands (1990)
With: Johnny Depp, Winona Ryder, Dianne Wiest, Alan Arkin, Vincent Price
This modern fairy-tale tells the story of Edward, a man who was created by an inventor (Vincent Price) out of a cookie heart. But since he died before he could finish Edward, his creation remained incomplete, with razor-sharp scissor-blades instead of hands. When an optimistic woman from suburbia selling make-up enters the inventor's castle and meets Edward she wants to help him and brings him home. Everything goes fine until Edward falls in love with her daughter (Winona Ryder): Edward starts to realise that he doesn't belong to that colourful 50s suburban world. This is Tim Burton's most beautiful film. It's a fairy-tale about fitting in, about being different and belonging as well as a satire of suburbia. Danny Elfman's unforgettable score adds magic to an already enchanting tale. Johnny Depp is brilliant as the loveable and shy Edward and the rest of the cast is terrific. It's one of the most original and magical film ever made and is a perfect representation of Tim Burton's gothic imagination and dark humour. Definitely one of Cablo Gula's favourite films.
Overall: *****/5
Beetlejuice (1988)
With: Alec Baldwin, Geena Davis, Michael Keaton, Winona Ryder, Catherine O'Hara
This is probably Tim Burton's most imaginative and funny film. It tells the story of a goody-goody couple that buy a big house in a small town in order to start a family. But, when they are the victims of an unfortunate car accident, they find themselves candidly exploring the afterlife and are doomed to stay in their house forever, as ghosts. Then one day, a weird eccentric family buys the house and the couple want to get rid of them even though they have befriended gothic little girl Lydia, but they are inexperienced in the "scaring" area. So they ask the help of crazy "bio-exorcist" Beetlejuice whose violent methods soon become a problem. Now a cult classic, this film is both gothic and hilarious. Tim Burton's script is witty and genuinely funny, his direction is original and visually perfect. The special effects may have dated but are still pretty cool and the film's gothic look is perfectly surreal. Burton has taken horror film clichés, twisted them around, added irony and his own vision of the afterlife to create an imaginative comedy masterpiece. Michael Keaton is at his very best as Beetlejuice and the rest of the cast is excellent, especially Catherine O'Hara whose eccentricity reaches highs. The dinner-possession scene is the funniest Burton's created so far and Danny Elfman's score is energetic, gothic and original. Overall, it's an unforgettable and impressive film with an otherworldly vision of the afterlife.
Overall: *****/5
Batman (1989)
With: Michael Keaton, Jack Nicholson, Kim Basinger, Jack Pallance
After the success of Superman, DC comics decided it was time for Batman to make his big movie debut. Tim Burton took on the job and his decision to cast Michael Keaton as Bruce Wayne and the Bat inevitably prompted numerous loud grunts from DC nerds all over the globe. Granted, Keaton doesn't look anything like the comic-book superhero, but he did pull it off very well considering that. The casting of Jack Nicholson as the evil Joker was, obviously, genius. One cannot imagine a better actor to play the villain. The film itself is very dark, gritty and strangely old-fashioned. It has a film-noir feel to it and it seems to be set in the 1940s, therefore, Gotham City is not unlike the Chicago of countless gangster movies made at that time. Tim Burton isn't concerned with explaining exactly how Bruce Wayne came to become the Bat (for that, I suggest Batman Begins), when the movie starts, Batman is already here, lurking in the shadows of a gloomy, thug-infested city. He is unknown to everyone though, and wants people to know that there is a masked bat-man cleaning up the 'human trash' of Gotham. Meanwhile, as reporters and the police are trying to figure out exactly who or what this Batman is, gangster Jack Napier is sent on a trap mission by his shady boss (the great Jack Pallance). He has been double-crossed not only by his boss, but by a dirty cop he thought he had in his pocket. When Batman appears and tries to capture Jack, the latter loses his grip and falls by accident in a big tub of acid. He is disfigured and more insane than ever, he is: The Joker. With the help of his protector and butler Alfred, Bruce/Batman is going to have to find a way to save the people of Gotham from the dangerous Joker, who has plenty of deadly cards up his sleeves. When Batman learns that it was Jack who killed his parents in front of him when he was a child, it all becomes even more personal. That last part isn't actually the real story (once more, I must refer you to Begins) but it works. Overall, this is an entertaining, brilliantly acted and directed film that manages to mix action, Burton's black humour and a dark setting to perfection. Danny Elfman's energetic and gothic score is perfect. In retrospect though, the Prince soundtrack was perhaps not the best choice…
Overall: ****1/2 /5
Batman Returns (1992)
With: Michael Keaton, Michelle Pfeiffer, Danny DeVito, Christopher Walken
Tim Burton, after the huge success of the first Batman film, obviously felt more comfortable with the whole concept and that's why Returns looks, sounds and feels more like a Tim Burton film. The opening scene is a beautifully gothic, almost wordless, sequence. Danny Elfman's haunting and enchanting score carries you through the home of the wealthy Cobblepot family, in which a child is being born. That child, however, is not an ordinary child but a monster: a penguin. The parents, repulsed at the sight of their unholy creation, make a decision: the child must be abandonned. The baby, still in his cradle, is then thrown over a bridge and left to discover the underground hell that will become his home, the sewers. A dark and chilling introduction that gives me goosebumps every time I see it. Michael Keaton is, once again, Batman but the Gotham City of the first movie has changed. Whereas before it was a rain-drenched film-noir setting, here it's a snowy gothic fairy-tale setting. Tim Burton's world has finally been given permission to infiltrate the DC comic-book world and merge to create the work of genius that is: Batman Returns. It's Christmas time and Max Schreck (the name of the actor who played Nosferatu), a popular but shady businessman, is making a cheesy speech about 'giving out world peace wrapped in a big bow' when Gotham is overrun by an evil gang of clowns and circus thugs. Max is captured by the bitter Penguin and the latter, with Max's help, re-emerges and ascends from the sewers to the white streets of Gotham. He claims that he wants to find his parents but can the Penguin really be trusted? Meanwhile, Selina Kyle (a show-stealing Michelle Pfeiffer), Max's clumsy secretary, is thrown out the window by the latter who found her unwittingly snooping around in secret files of his. But she doesn't die, instead, she walks home like a zombie, has a nervous breakdown and creates herself a new persona: she becomes the sexy and deadly Catwoman. She forms an alliance with the Penguin, who is counting on becoming mayor of Gotham himself, against Batman. So the Bat has more things to take care of this time round. Overall, this is a superior film to the first Batman and it's very underrated as it is, in my opinion, the best comic-book film to date. A masterpiece.
Overall: *****/5
The Nightmare Before Christmas (1993)
With the voices of: Danny Elfman, Catherine O'Hara
Tim Burton, who had already proven his worth with stop-motion animation in his short film Vincent and the special effects in Beetlejuice, decided to make his own feature-length animated film, with the help of his old pals at Disney of course. It tells the story of Jack Skellington, the most popular man in Halloween Town, who's lonely and tired of preparing Halloween again and again. One night, he stumbles upon Christmas Town and discovers a whole new world, entirely different from his own. So, he tries to bring Christmas to Halloween Town but, obviously, the ghouls, vampires and monsters of the latter don't really get the idea but decide to help their friend Jack anyway. It all goes pear-shaped when Santa Claus is kidnapped, sent to Hoogey Boogey (the Boogeyman) and replaced by Jack. The whole thing is extremely gothic and pretty spooky for young kids. The animation is great, the voices too but the real beauty of this film is the music. Danny Elfman outdoes himself and creates a whole range of beautifully dark songs that fit more than perfectly in Tim Burton's weird and gothic little world. "What's This?" and "This is Halloween" are great but Jack's song at the beginning, as well as Sally's (a girl in Halloween Town) a bit later are both utterly enchanting. It's also, obviously, very funny and imaginative and is, consequently, Cablo Gula's favourite musical.
Overall: *****/5
Ed Wood (1994)
With: Johnny Depp, Martin Landau, Sarah Jessica Parker, Bill Murray, Mike Starr
This is Tim Burton's inspired biopic of the "Worst Director of All Time" Ed Wood D. Jr, who did the unintentionally hilarious bad films Plan 9 From Outer Space and Bride of the Monster. Johnny Depp plays Ed Wood and we follow him as he desperately tries to make and sell his films. It soon becomes pretty clear that, even though his determination is great, his techniques are terrible: every first take is "perfect" and the fact that his actors are amateurs and that his sets are always laughable doesn't bother him. When Ed meets ageing actor Bela Lugosi (who played Dracula in the 30s) he instantly offers him a job and persuades him that he is a good director. They become great friends but Bela is a junkie, has no money and no career. Tim Burton does make fun of Ed Wood, famous for being a transvestite and having weird friends who always appeared in his films. The fact that he compared himself to Orson Welles and that he believed his films to be actually very good makes him look ridiculous. But Burton does seem to acknowledge that his determination allowed him to make his dreams come true and admires his friendship with poor Bela Lugosi, as we see in a very moving moment after Bela is rehabilitated in which he stops to smell the flowers and looks genuinely happy. Martin Landau is brilliant and deservedly won a Best Supporting Actor Oscar for his performance. There is a great supporting cast including a hilarious Bill Murray, who plays a gay friend of Ed's. Johnny Depp, as usual, is delightful and his performance is exemplary. It is, of course, a very dark film: it's shot in black and white and contains a lot of black humour. It's excellent and is definitely one of the most engaging biopic ever and one of Burton's finest achievements.
Overall: *****/5
Mars Attacks ! (1997)
With: Jack Nicholson, Pierce Brosnan, Annette Bening, Glenn Close, Sarah Jessica Parker, Martin Short, Michael J. Fox, Danny DeVito, Lisa Marie, Natalie Portman, Rod Steiger, Tom Jones, Lukas Haas, Jack Black
Based on a series of famous trading cards, Mars Attacks! Is basically Tim Burton's hommage to the sci-fi films of the 60s. A very impressive all-star cast leads this clever disaster comedy in which the Martians invade Earth with their flying saucers and cause havoc. Jack Nicholson is the optimistic American president who believes the Martians come in peace and who thinks their arrival to Earth can be handled without force. Actually, many characters in the film think the Martians are peaceful at first, including Pierce Brosnan's suave pipe-smoking scientist. Some characters are so into their own lives they barely notice what's going on around them: Martin Short is terrific as the press secretary who brings hookers to the White House and Danny DeVito appears as a loud gambling man. When Mars attacks, the humans think it is due to a simple "cultural misunderstanding" so they arrange another meeting with the Martian ambassador, it all ends in the Congress being annihilated. The humans are therefore portrayed as overly optimistic goodie-goodies, surely a critique of how people are portrayed in many sci-fi films. There are moments reminiscient of films like Independence Day and references to old sci-fi flicks such as Earth vs The Flying Saucers. The ending, when it is revealed that the Martians' demise is brought on by loud yodeling, obviously mocks The War of the Worlds' abrupt original ending. The whole thing works as a sci-fi satire and is consistantly very funny with brilliant playful acting all-round (except perhaps for Tom Jones who makes a joke appearance). Nicholson is as good as ever and plays 2 roles (the president and a sleazy Texan casino owner) in his 2nd collaboration with Burton (the 1st one being as The Joker in Batman). There are lots of special effects and they are quite ambitious: some work, some don't really and haven't aged too well, but on the whole it is pretty impressive. The Martians are hilarious creations and the film contains some truly classic scenes. Very entertaining, wonderfully weird: Mars Attacks! Is an underrated film that's terrific fun from start to finish.
Overall: ****/5
Sleepy Hollow (1999)
With: Johnny Depp, Christina Ricci, Michael Gough, Casper Van Dien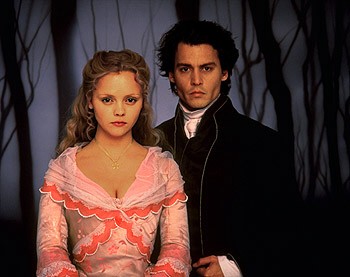 Johnny Depp is Ichabod Crane, a naïve but clever constable from New York who is sent to a little village called Sleepy Hollow, where some strange murders have been taking place, beheadings, to be precise. Ichabod is a rather fragile fellow, his childhood was a troubled one and he's devoted his life to justice and science. He arrives in Sleepy Hollow thinking he's dealing with a routine serial killer but it soon becomes pretty clear that all is not so simple: the severed heads of the victims are nowhere to be found. Everyone believes the maniacal Headless Horseman has come back from the dead and is the cause of all this. Ichabod is obviously sceptical, he believes in science, in cause and consequence, not ghouls and goblins. But when he has a close encounter of the Headless Horseman kind himself, he starts to think otherwise. What follows is a very clever story with numerous twists and turns. Sleepy Hollow is a gripping adaptation of the famous gothic story. Depp is excellent (when is he not?) as Ichabod and his British accent is absolutely flawless, a delightful tongue-in-cheek performance. The rest of the cast is great and watch out for some cool cameos by Martin Landau, Christopher Lee and Christopher Walken. The film itself is expertly executed: the action sequences are impressive, the special effects are pretty cool indeed, and the whole thing is visually flawless. And even though Tim Burton's magic touch is not consistently present, it resurfaces in Ichebad's beautifully surreal dream sequences. Sleepy Hollow is almost flawless but it lacks the heart that makes other Tim Burton films extra special (Batman Returns, Edward Scissorhands). The film would have been perhaps even better had it been presented as a gothic "Once upon a time…" tale like Edward Scissorhands. Also, lets face it, it's not really frightening and Burton even softens the potential "scary moments" by making them more comical. Still, Sleepy Hollow is a fascinating and very entertaining tale. Overall, not Tim Burton's best but still pretty damn good.
Overall: ****/5
Planet of the Apes (2001)
With: Mark Wahlberg, Helena Bonham Carter, Tim Roth, Paul Giamatti, Michael Clarke Duncan, Kris Kristofferson.
When you talk about this 2001 "re-imagining" of Pierre Boulle's science-fiction masterpiece, the word "flop" instantly comes to mind, closely followed by the claim: "Tim Burton's worst film". Yes, Planet of the Apes was a commercial failure, granted it is Tim Burton's "less-good" creation and Ok, it's very poor when compared to the classic Charlton Heston version. But is it really that bad? This time, the answer is no. Sure it's not without its flaws: Mark Wahlberg is miscast as Leo Davidson, the astronaut who finds himself transported by accident to an unknown planet ruled by apes. Tim Burton couldn't have picked a least "Tim Burton" character. Not only that but Wahlberg has none of the charisma, physical strength or even acting talent as Heston whose powerful performance in the original is unforgettable. Also, the ending is disappointing as it has none of the punch that the original's devastating final twist had. This is due to the fact that the story gets much too complicated for its own good and therefore leaves everyone wondering: "does it actually make any sense?". These are the main flaws, and now for the good points. Helene Bonham Carter is excellent as an ape activist who dislikes the fact that humans are treated like slaves. Tim Roth is completely unrecognisable as the evil general chimpanzee who hates humans and leads the hunt to catch Wahlberg's astronaut. It is arguably Roth's best performance to date and he is completely convincing. But it's Paul Giamatti's orang-utan slave driver who easily steals the show, his one-liners and hilarious facial expressions are a real delight. Danny Elfman's score is terrific as it mixes tribal drums with electronic (sci-fi) sounds. One of the best things about this film though is its rhythm, love it or hate it, it's a gripping adventure that manages to capture your attention till the end. Which is more than I can say for such sci-fi films as Independence Day or Deep Impact for example. And of course, it must be said, that the costumes, make-up effects and settings are absolutely amazing, visually, the film is spot on. Too bad then that Tim Burton's "re-imagining" was fatally flawed, it could have been something great. But it just goes to prove that remaking perfect classics is not a good idea: if it ain't broke, don't fix it. Overall, an entertaining, visually stunning flop.
Overall: ***/5
Big Fish (2004)
With: Ewan McGregor, Albert Finney, Helena Bonham Carter, Billy Crudup, Danny DeVito
Adapted from a Daniel Wallace novel, Big Fish is the story of a Will (Crudup) who's getting married and is tired of his father Edward telling tall-tales all the time. Ever since he was a kid, his father has been telling his fantastical stories and claiming they were true. They have a big argument and stop talking to each other, then, about a year later, the son learns his father is dying so he goes back home to stay with him a little. As they talk and try to settle their differences we are shown some of the tall-tales that Edward was talking about. But we soon realise that there is some truth in these stories, they are not completely made up so Crudup tries to figure out what is real and what is not in order to understand who his father is really. Ewan McGregor plays the younger Edward Bloom we see in the tales in question and Helena Bonham Carter is great as a witch who can see into the future. As you can see, this doesn't sound very Tim Burton-y, and it isn't. For one thing, McGregor is the least Burtonian actor you could find. Also, there's nothing gothic and dark about Big Fish, which is, like it or not, quite disappointing. Where's the snow? Where are the caricatures? It all seems very "goody goody" for a Tim Burton film. Having said that, if you don't think of it as a T.B. film, then you'll love it. It's a genuinely moving story about the empty relationship of a father and his son and the former's inability to succumb to the boring real world. It's a film which shows Burton's more mature side and it's surely a project which he cared a lot about since his father died some time before making the film and since he also became a father himself around that time. Overall, Burton fans won't be too overjoyed because of the lack of darkness and irony but it must be said that Big Fish is very entertaining, moving and has some magical moments.
Overall: ****/5
Charlie and the Chocolate Factory (2005)
With: Johnny Depp, Freddie Highmore, Christopher Lee, Helena Bonham Carter
The original adaptation of Roald Dahl's famous children's book is now seen by some as a flawed, overly positive, unfaithful adaptation and by others as an underrated cult classic. And since I'm of the latter group, I was undoubtedly excited about the great Tim Burton making another adaptation of Charlie and the Chocolate Factory. The casting of Johnny Depp as the weirdest chocolatier ever, Mr Willy Wonka, was obviously very promising as he hasn't disappointed in any of his past collaborations with Burton (Edward Scissorhands, Ed Wood, Sleepy Hollow). Incarnating young Charlie is Depp's co-star of Finding Neverland Freddie Highmore, who gives another impressive performance and was definitely a good choice. The rest of the cast includes Helena Bonham Carter as Charlie's mum and the creepy Christopher Lee as Willy Wonka's dentist father. From the amazing opening titles you just know Tim Burton has got his magic touch back. Not that he had really lost it but since Mars Attacks! he hadn't produced a film worthy of his past masterpieces…until now that is. From the offset, all his best trademarks are at the rendez-vous: Snow? Check. Danny Elfman score? Check. Spirals agogo? Check. Strangely futuristic machinery operating? Check. This version is a considerably darker, more twisted one than the original musical Gene Wilder version. First, Wonka himself: Gene Wilder gave a brilliant performance in the original but he was criticised by some because he wasn't "weird" or "creepy" enough. Well, they won't be saying that about Depp's Wonka that's for sure. This one is a twisted mixture of Ed Wood and Pee-Wee Herman with a dash of Michael Jackson. The Willy Wonka we're given is one with a troubled childhood, a constant creepy smile, impossible hair and an undescribable voice: he's camp, he's clumsy, he's disturbing, he's hilarious. The film itself is definitely a more faithful adaptation even though Burton does add a lot of his own ideas (we discover Wonka's dad) and the ending is much more satisfying than the overly sentimental one of the original. And what about the Oompa Loompas? Well, you remember the old ones? Basically dwarves with bright orange face-paint, silly clown clothes and green hair. Well, now the Oompas are a sort of Indian-ish tribe of what can only be described as clones. And even though their new songs aren't quite as memorable as the classic Oompa Loompa Song, they are very catchy nevertheless and much more energetic. Tim Burton has produced his best film in years and it will delight children and adults alike. Overall, with a brilliant Danny Elfman score, cool special effects, Burton's unique gothic style and Depp's delighfully tongue-in-cheek performance, Charlie and the Chocolate Factory is a near-perfect, must-see gem that will have you grinning for an hour and a half. That is, unless you're made of stone.
Overall: ****1/2 /5
Tim Burton's Corpse Bride (2005)
With: Johnny Depp, Helena Bonham Carter, Emily Watson, Joanna Lumley, Danny Elfman, Richard E. Grant, Paul Whitehouse, Tracey Ullman, Albert Finney, Michael Gough, Christopher Lee, Deep Roy
Earlier this year, movie wizard Tim Burton brought us his scrumdiddlyumptious take on Roald Dahl's Charlie and the Chocolate Factory. And only a few month later, he returns, much like the Bat-Man, with an animated Halloween treat just for us. Of course comparisons with his previous stop-motion masterpiece The Nightmare Before Christmas are inevitable. But don't jump to conclusions for even though there are similarities between the 2 films they are very different indeed. Whereas Nightmare was a musical fairy tale fantasy, Corpse Bride is more of a gothic melodrama. Johnny Depp voices the rather sensitive, hesitant and clumsy Victor Van Dort, whose rich parents have decided to arrange his wedding with a certain Victoria Everglot (Watson) as her parents are poor and need this wedding to take place if they don't want to end up completely broke. But the wedding rehearsals are disastrous because of Victor's nervousness due to the fact he is unsure about the whole 'getting married' idea as he's only met his bride-to-be Victoria once, briefly. One night, a depressed Victor is walking in the woods and, during some joking around, puts the wedding ring on what appears to be a branch. Turns out, the branch in question is in fact the finger of a woman's corpse and when the latter suddenly comes to life, poor Victor is terrified and runs away. Soon, the Corpse Bride (Bonham Carter) brings her new husband home, to the after world where he meets some gruesome characters such as a singing skeleton (Elfman) and a French waiter's talking head carried by cockroaches. But what will Victor do? Will he go through with marrying the corpse? Victor may be the main character but it must be said that it's very much the Corpse Bride's show. She may be slightly scary, and ok she has a Beetlejuice-esque maggot in her skull and an eye that keeps popping out. But even so, she is a very sweet (even cute) character. Can a heart still break when it stops beating? It appears so. The Corpse Bride is visually impressive, the animation is slick and very imaginative. The voice cast is perfect and it's actually very easy to forget who is doing the voice of whom when watching the film because the characters are so original. The Corpse Bride, it must be said, doesn't have the energy and the masterful music of Nightmare Before Christmas: the score and the songs are truthfully not very memorable but certainly great fun and at times truly beautiful (the Bride's song and the piano duet scene are both superb). The irony of this film is that, for Burton, the real world is cold, dull and unpleasant whereas the world of the dead is warm, entertaining and likeable in a gothic kind of way. Overall, The Corpse Bride is a real treat, granted it's not as brilliant as its older bigger brother but it's very sweet, funny and done with a lot of heart. Expect black humour, gothic romance, skeletons agogo and some Oscar worthy animation. Missing this film would be a murder most foul.
Overall: ****/5
Danny Elfman Filmography:
Danny Elfman is a composer that has worked with Tim Burton on most of his projects. His theme tunes are often catchy and have a toe-tapping rhythm. Of course, he's mostly known for having done the theme tune for The Simpsons. He's also done the theme for Tales From The Crypt and The Flash TV series.
In Pee-Wee's Big Adventure and Big Top Pee-Wee, Elfman created a circus-like theme that goes perfectly with Pee Wee's child-like personality and his scary-clown-infested surreal little world.
Danny Elfman showed that he could also be poetic by making the beautiful Edward Scissorhands score that did add a lot of magic to the film.
In Beetlejuice, he went for something different. The score differed from his previous ones because the instruments used were mostly wind whereas in Edward Scissorhands there was a vast majority of violins and cellos. The Beetlejuice theme is his most energetic and puts the viewer straight in the mood of the film: a black comedy. Of course Danny Elfman's scores are well known for having chorals: they are used in almost all his scores.
He did the scores of both Batman films directed by Tim Burton. In the first one, he went for a very dark and heroic theme that became unforgettable and a perfect fit for the dark super-hero that is Batman. In Batman Returns however, this changed. Since the second instalment of the comic-book films was more Tim Burton-esque, Elfman went for a more poetic and gothic score whilst still keeping the original heroic theme tune. This score is definitely one of his very best and makes the film even more perfect.
Obviously, Danny Elfman's moment of glory came when The Nightmare Before Christmas was made. He provided all the songs, lyrics, music and even sang some of the tunes himself (as Jack Skellington)! He proved himself to be one of the best composers around as well as quite a talented singer. It must have been tricky to create songs that would sound Halloween-ey and Christmas-y at the same time but he pulled it off brilliantly. The first song: "This is Halloween" puts you in the mood for the introduction of Halloween Town. "What's This?" is more energetic, lighter and therefore has a nice Christmas feel to it that makes it irresistible. The rest of the songs sound very gothic and…well Tim Burton!
Danny Elfman strangely didn't do the music for EdWood but he was back for Sleepy Hollow. The film was obviously dark and was about a corrupted little village haunted by a headless horseman so Elfman went for a more discreet score to fit the unsettling atmosphere: voice solos were more important than the instruments. It's not his best work but is still pretty good.
Then, Danny Elfman tried his luck at science-fiction comedy by providing the score for Mars Attacks!. His score was pretty grandiose since the film was about an alien invasion of the Earth and was a good reference to the music of old science-fiction films. The chorals were back as well as all the instruments. Overall, a great, energetic score that's as fun as the movie.
Danny Elfman did the score for Planet of the Apes. Perhaps not a great film but certainly a great score. The mixture of tribal and primitive rhythms with science-fiction-style sounds works perfectly and creates the required mood for the film. It's all very fast and dramatic, like the film.
For Big Fish, Danny Elfman tried to get closer to his old Edward Scissorhands score since the film is about the telling of fantastic stories (sort of fairy-tales). Unfortunately, the score was very low-key and not very memorable. It seems that the score, like the film, became slightly weaker during the realistic moments and when came the fantasy, short flashes of imaginative brilliance appeared. It's probably one of his less exciting score but does add magic to the film nevertheless.
Danny Elfman also did some cracking theme tunes on the side including: Darkman, Spiderman, Novocaine, Men in Black, The Frighteners, Chicago and many others. He also did the music for Hulk and The Family Man but they were less memorable.
His new score for Charlie and the Chocolate Factory is his best since Spiderman and his best Tim Burton score since Mars Attacks! Interestingly, Danny does the voices of all the Oompa Loompas! He said that he composed the Oompa Loompa songs according to the leaving children's personalities. He didn't write them though, the lyrics are all Roald Dahl's. The result is another brilliant score from the coolest film composer there is. Next up, The Corpse Bride...